MTV - 2013 VMAs
Art Direction, Tech, Innovation and Design


---


Art direction, UI/UX, branding, web design for the desktop & mobile destination and second-screen experience for the record setting 2013 MTV VMAs. Launching with a video piece I created to announce the Kaws x MTV collaboration across television and web outlets, I collaborated closely with our on-air/off-air department to create a cohesive marketing strategy and look from street ads, to on-air spots, to our mobile site. Worked in conjunction with our integrated marketing/ad-sales team to strategically and seamlessly tie in sponsors with our products/talent, while still keeping content easily shareable across the web.



Announcement Video

---
Responsive Designs Across Multiple Phases


The VMAs took on a variety of looks throughout the weeks leading to the show. Each of these looks was designed to dynamically shift across any and all devices, with interactivity and share-ability being the most important.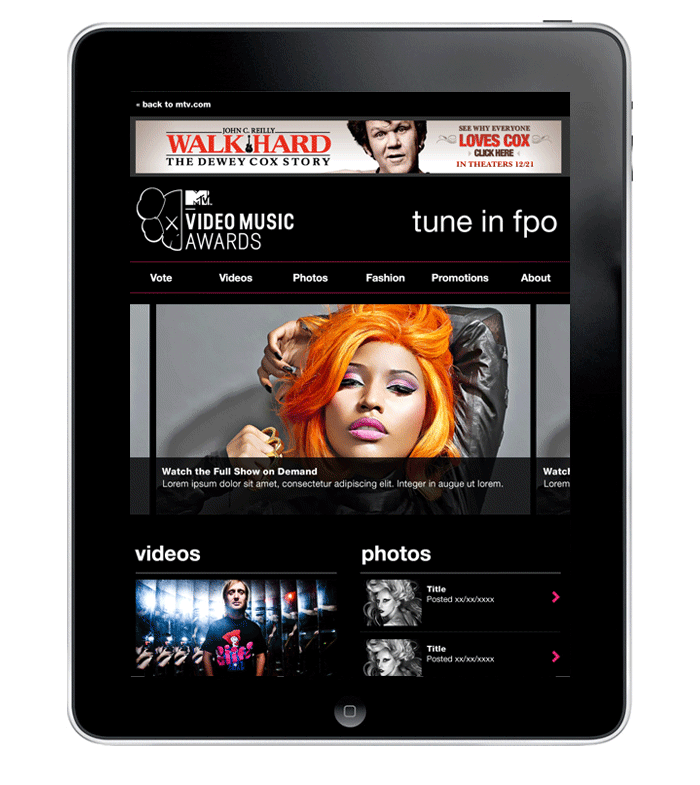 ---
Night Of The Show


During the VMAs itself, the team would be updating multiple sites in real-time, both by implementing dynamic feeds for social and reporting winners but also designing announcement content for .com and social.