Unfolding Timbaland
Creative Direction, Innovation, Content, Influencers and Strategy


---
The Background


For the launch of the flexible, foldable Samsung Galaxy Z Series, I wanted to develop a social led activation that had never been done before at scale, bringing together Verizon's 5G network and the power of Artificial Intelligence. We partnered with multi-platinum hitmaker Timbaland to remix the idea of a typical phone launch. With over 600 new mobile device launches every year, we knew we needed to stand out from the crowd. Specifically, we set out to showcase the versatility and endless possibilities with the Samsung Z series and measured success against share of conversation and engagement on Twitter, the selected platform for the campaign.




---
The Brief


Create a 'disruptive' social concept that enables play, reimagines immersive experiences, and sparks joy. Success is determined by social engagement on Twitter.


---
The Strategy


Working with my strategy team, we developed the concept "Unfold a new world of possibilities."

Only Verizon and Samsung can break the constraints of yesterday's form factors and yesterday's network, to bring you the new world of possibilities.

Immersive experiences, on exciting new Samsung form factors, powered by the network of tomorrow, Verizon 5G.


---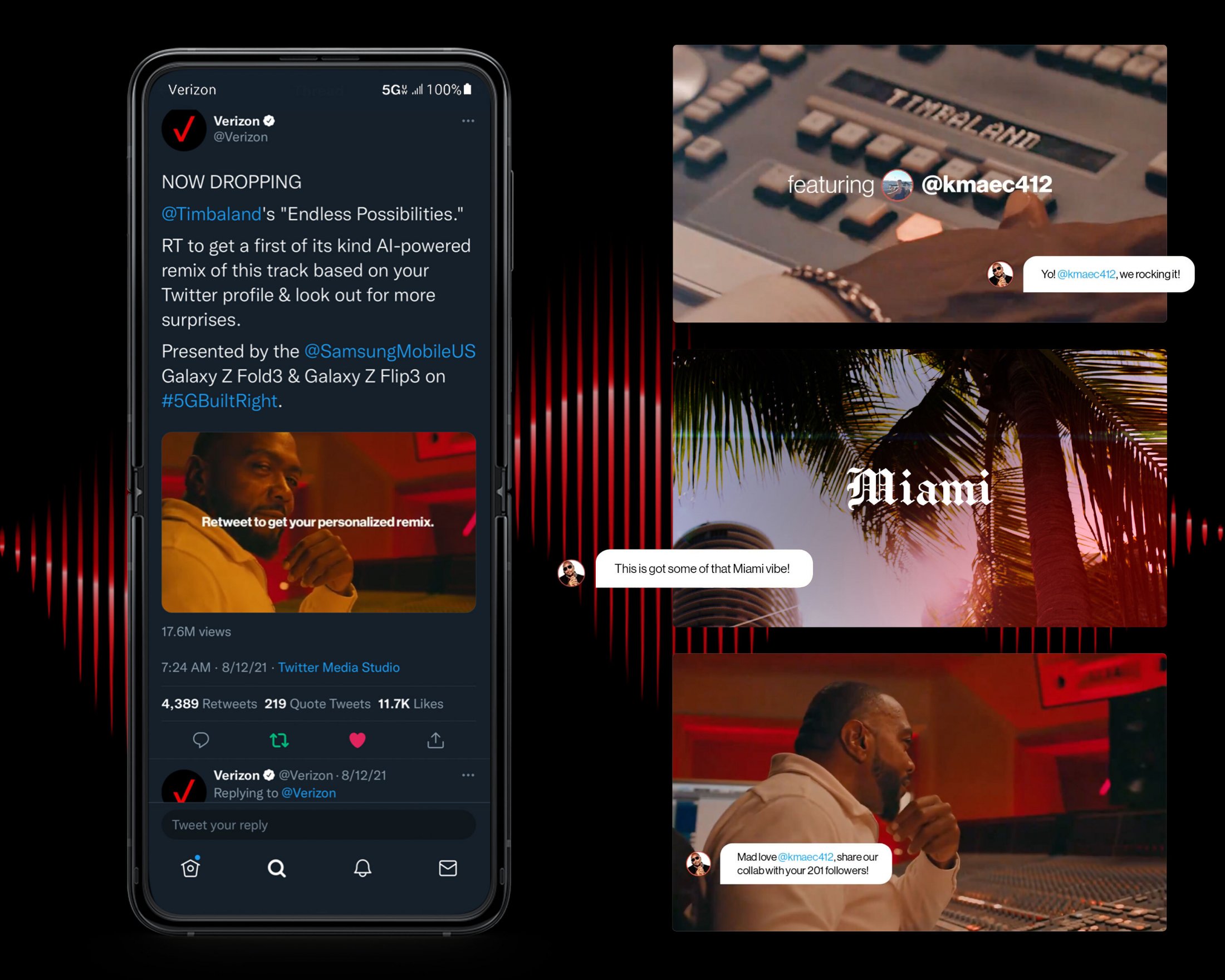 The Idea

To show how the Samsung Galaxy Z Series' innovative form factor remixes your online life, we had Timbaland, one of music's most iconic personalities, write an original track composed of compartmentalized loops, designed to be remixed infinitely. We built a music-composing A.I. bot, trained it on Timbaland's historic biggest hits, and used machine learning to teach it to ingest, interpolate, synthesize, and create. Then, we gave our beat-making sentient bot access to Verizon's Twitter account, and told it to make some music.

Custom AI Remix + Original Timbaland Track

Everyone got personal shoutouts from Timbaland, custom beats, and location-specific personalized music videos. The algorithm remixed unique tracks for thousands of fans as soon as they retweeted us. Each fan had their own epic drop – bringing Verizon and the Galaxy Z Series to top of mind, and Verizon's share of conversation to the top of the charts.

All fans had to do was Retweet Verizon's post and the A.I. would scan their profiles for public data to integrate into a piece of personalized, dynamic content. In reply, each fan got their own custom version of the song in a music video featuring personal shoutouts, bespoke beats, and location-specific callouts.

Fans who retweeted us got their own individual AI-created version of the track – and they didn't waste any time sharing it across social media.





---
The Results


It was a truly epic drop – bringing Verizon and Samsung Galaxy Z Series to top of mind, while reimagening the power of Artificial Intelligence and persinalized Music engagement.


97% positive sentiment
#1 share of conversation for the first 48 hours
6,000+ custom remixes
99.6% of all mentions on @SamsungMobileUS at launch.
---
Awards
2021 Shorty Awards
WINNER: Artificial Intelligence


CLIOS
BRONZE: Artificial Intelligence


Webbys
HONOREE
SHORTLIST


One Show
4x SHORTLISTS